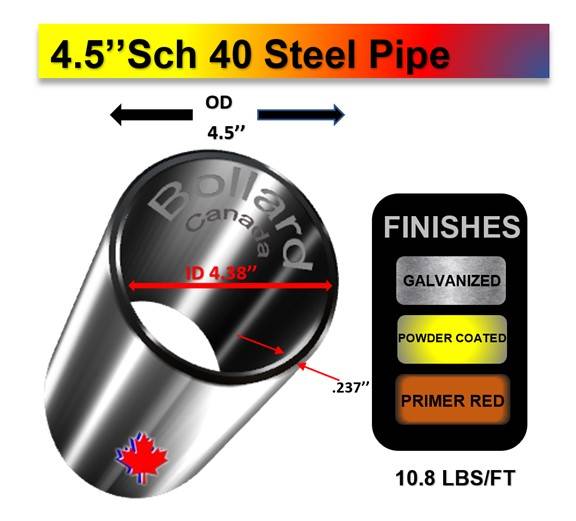 PIPE SPECS
​Name: 4″ SCH10-40 Steel Pipe
Nominal Size: 4″
Wall Thickness: .125/0.237″
Inner Diameter (ID): 4.026″
Outer Diameter (OD): 4.5″
Circumference: 14.14″ (approx 14 1/8″)
Weight: 5.613 / 10.8 lbs/ft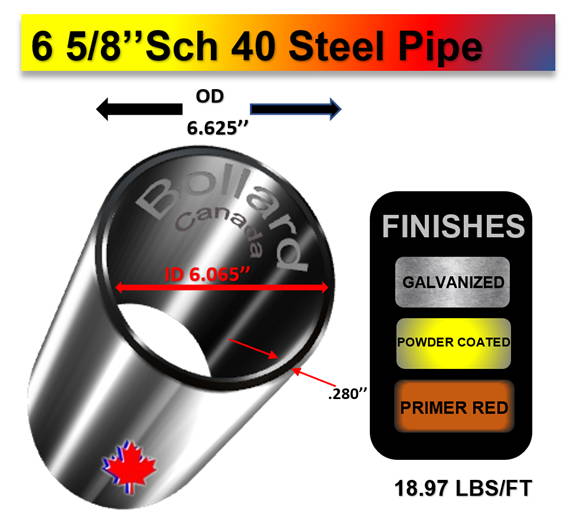 PIPE SPECS
Name: 6 ″ SCH10-40 Steel Pipe
Nominal Size: 6 5/8″
Wall Thickness: 0.134/0.237″
Inner Diameter (ID): 4.026″
Outer Diameter (OD): 4.5″
Circumference: 14.14″ (approx 14 1/8″)
Weight: 9.289 / 18.97 lbs/f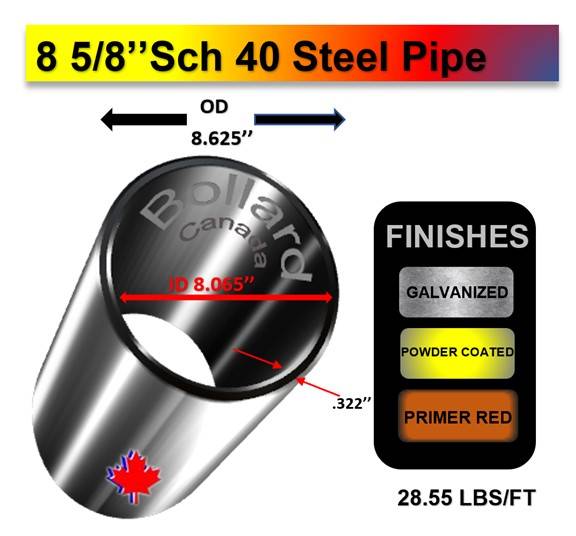 PIPE SPECS
​Name: 8″ SCH10-40 Steel Pipe
Nominal Size: 8 5/8″
Wall Thickness: 0.188/0.237″
Inner Diameter (ID): 4.026″
Outer Diameter (OD): 4.5″
Circumference: 14.14″ (approx 14 1/8″)
Weight: 13.40 / 28.55 lbs/ft
Concrete calculator click
BOLLARD INSTALLATION SPECS
​
Minimum Pier Footing Diameter: 12″
Auger Size: 12″
Install Depth: 48″ Typical
Install Height: 48″ Typical
Bollard Pipe Lengths Available: 7′, 7.5′, 8′ , 10', 10.5'
Concrete: Volume for 12″ Diameter, 36″ Deep Footing + Pipe Fill is 0.09 Yards
System Weight: 12″ Dia. x 48″ deep concrete pier and 8′ bollard is approx. 445 lbs
GENERAL APPLICATIONS:
The 4.5″ SCH 10 and 40 Pipe:

- might be used as protection for objects or building corners from collision by light weight machinery at best.

- may be utilized as delineators (visual queues) to drivers for traffic control where, if omitted by collsion, does not present greater problems than if - it did not exist.

- may be used to hold non-critical signage like "reserved parking" for instance; not to hold stop signs for instance.

- can be used as stanchions for crowd control or queue line.

- as fixed immobile delineators.

- may be tall to hold signage high.

*SHOULD NOT EVER be used to protect people, or anything else for that matter, from vehicle impacts, even at low speeds.

* SHOULD NOT be used as a barricade or for building entrance protection.

​

*AS A BARRICADE: Nope, not even close. At minumum, use a 6-inch Schedule 40 pipe. To have more certainty in a barrier's stopping force, it is advised to use an impact-rated bollard system such as the C40, K4 or K12.

​

VARIETIES: ASTM A500 Carbon Steel Pipe is the common go-to choice for bollards. Although, it is sometimes sufficient to use a structural grade untested pipe. Of course, we also offer pipe that meets various prescribed ASTM and ASME standards.
Bollard Canada Inc bollards are made from high quality steel pipe and designed to protect buildings, pedestrians and equipment from vehicle or forklift collisions.
Our Steel Bollards are used in a wide variety of pedestrian and critical protection settings including: storefronts, parking lots, sidewalks, propane & fuel filling stations, gas & electric meters, fire hydrants, machinery protection and electric vehichle charging stations.

We stock an inventory of steel pipe 4 1/2" to 10 3/4'' and also 12 3/4''diameter for in ground installations.

Our bollards are offered in a variety of finishes including: raw steel, galvanized, prime painted or powder coated plus our recommended "Never Paint Again" - Bollard Covers in a variety of standard or custom colors.

We also offer custom fabricated bollards with cut-outs, eye bolts, removable options and signs

Please CONTACT US to discuss your custom application.
Galvanized Steel
4.5 - 6 5/8 - 8 5/8
Size available for your needs
4.5 avail in .125 or .237 6 5/8 avail in .134-.280 8 5/8 avail in .188-.250-.322
4.5 x 8 6 5/8 x 8 8 5/8 x 8
4.5 x 10 6 5/8 x 10 8 5/8 x 10
4.5 x 12 6 5/8 x 12 8 5/8 x 12
Contact us : 1-855-BOLLARD (265-5273)
or by Email: info@bollardcanada.com