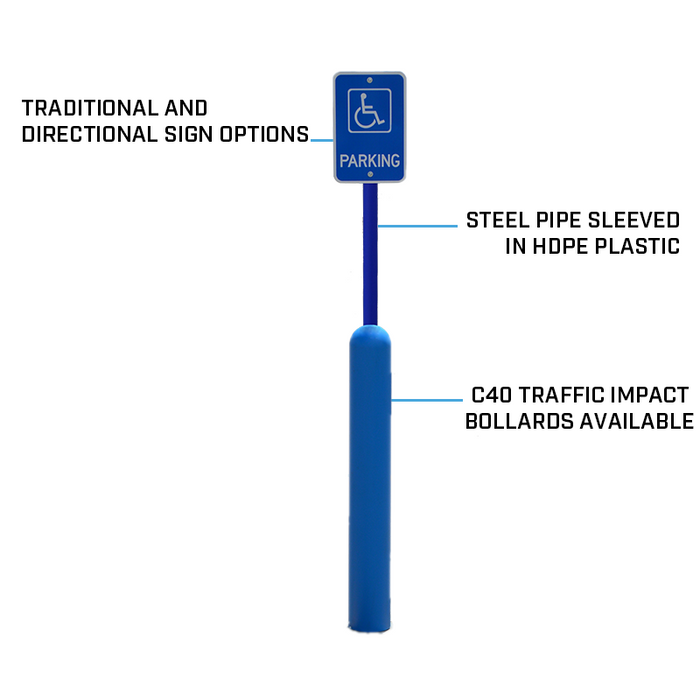 The Bollard Sign Systems are maintenance-free systems that utilize a traditional steel post sleeved in an Ideal Shield bollard cover and a 1-1/4" steel pipe sleeved in plastic, giving you both strength and curbside appeal. If you're looking to add more protective signage to your storefront, ask us about our C40 Traffic Impact Bollard option. 
Have an exact size or installation need? Our Bollard Sign Systems are available in 4.5″, 6 5/8″, 8 5/8″ diameter options, as well as either Base Plate or Core-In installation application. 
Our Bollard Sign Systems can be designed to meet your needs. The system can be sleeved in any color Bollard Cover and matched with a steel signpost sleeved in one of nine color options we have available. If you want to take your project a step further, we also offer custom decal for the Bollard Cover to meet your branding needs. 
To set our Sign Systems apart, we utilize precision cutting on our Bollard Covers. The clean, precisely machine cut cover will ensure your sign system looks professional and inviting.
We can do a complete sign system, retrofit an existing sign, or provide the bollard cover and signpost. Contact us or submit a quote today to learn more!