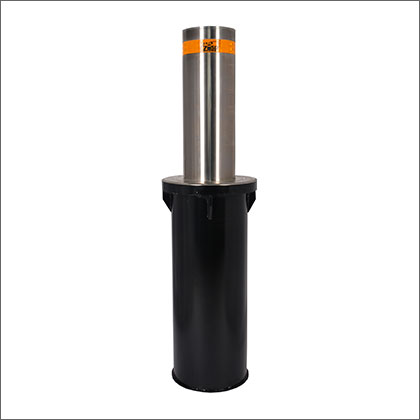 Semi Automatic Retractable Bollard
Description of Semi-Automatic Bollard
SA101 Semi-automatic bollards are widely used in infrequent passage of vehicles access, such as: fire access, parks, pedestrian street, etc.
Could rise automatically, downward assisted by manpower, no electricity and power device, composed by the bollard, flange, lift-oriented system, lock control structure. Compared with automatic bollards, this is an economical choice. The semi-automatic bollards are lifted by gas springs inside their castings. No power is required. Semi automatic bollards are suitable for high security but low frequency access control.
Details of Semi-Automatic Bollard
● Dimension:φ400×870mm
● Bollard diameter: 217±1mm, customized 271mm
● Bollard thickness: 6±1mm
● Height above ground: 600±5mm
● Rising time: 3-5s
● Material: 304 stainless steel, optional 316 stainless steel
● Color: customized
Operation Steps of Semi-Automatic Bollard
Raise: when the key is turned, the column will automatically rise and automatically lock when it rises to the specified height;
Lowering: Open and release the mechanism with the key.
Apply pressure on the top of the road pile to lower the column back to the ground and lock it automatically.
Advantages of 

Semi-Automatic Bollard
Strong corrosion resistance
1. The connecting beam (upper end of the column) between the core and the barrel adopts 304 stainless steel laser cutting technology, which is both beautiful and corrosion resistant.
2. The lamp bead mounting bracket is made of stainless steel with open die bending technology and rounded corners to avoid hand injury and corrosion during maintenance
3. The Dacromet process used for all standard parts of the equipment is 20 times stronger in corrosion resistance than the ordinary (other manufacturers) blackening process and about 7 times stronger in corrosion resistance than galvanizing.
4. The upper, middle and lower flanges are all treated with electrophoresis technology, and the guide square steel is treated with two coats of antirust paint.